The Web brings people together because no matter what kind of a twisted sexual mutant you happen to be, you've got millions of pals out there. Type in - 'Find people that have sex with goats that are on fire' and the computer will say, 'Specify type of goat.'
What experience and history teach us is that people and governments have never learned anything from history, or acted on principles deduced from it
What a Chimp Teaches Us About Humans
"Project Nim," a documentary film examining the story of Nim Chimpsky, a chimpanzee who learned to communicate with people using sign language, reveals more about people than other primates.
A cautionary tale about scientific hubris and overreaching that plays like a Planet of the Apes prequel, Oscar-winning (for Man On Wire) director James Marsh's latest film, Project Nim, is about a chimp who learned to sign.
A major media story back in the late '70s, the story of Nim Chimpsky began when he was taken from his mother at a primate research center in Oklahoma and given to a New York family to be raised as a human. The experiment was the brainchild of Herb Terrace, a Columbia University psychology professor, who felt if the simian could be taught sign language, he might be able to express his thoughts and feelings.
Unfortunately, Nim was initially left with the family of Stephanie LaFarge, a former student (and lover) of Terrace's, who didn't seem to see surrogate motherhood as a scientific project but preferred to raise Nim in a chaotic, countercultural atmosphere (where he was given alcohol and allowed puffs on a joint) without bothering to provide any journals or logbooks charting his progress. "We enjoyed letting him hang out and see how it went," says LaFarge of the way she parented Nim. But, she adds, in one of several "D'oh!" moments scattered throughout the film, "I wasn't prepared for the wild animal in him."
So Terrace took Nim from LaFarge and moved him to a Columbia facility where he was taught and nurtured by a series of scientists and sign language experts. His signing began "exponentially increasing" (Nim eventually learned 125 signs), and after New York magazine published a cover story titled "First Message From the Planet of the Apes," so did his fame.
But as Nim grew, he became dangerous. He started biting people, at one point almost ripping off the entire right cheek of one of his teachers, which leads Laura-Ann Pettito, one of the chimp's instructors, to note in the film that, "You can't give human nurturing to an animal that can kill you."
From that point on, Project Nim moves from cautionary tale to animal horror story. Nim's aggressiveness, which was also becoming sexual — he started humping the humans and a pet cat — forced Terrace to close the experiment. Nim was shipped back to the Oklahoma facility, where he had to learn to socialize with other chimps. Then the primate center, strapped for cash, sold Nim to an NYU center that tested vaccines on animals, where the director readily admitted that "there's no way to carry out research on animals and for it to be humane."
Nim ultimately found peace in his old age with others of his kind and died in 2000 at the age of 26. But Project Nim lingers in the mind for all sorts of reasons, none more important than the "playing God" aspects of the research and what seems to be a curious case of cluelessness on the part of the people involved.
Whether or not it's important to find out if animals can be taught to communicate like humans is a question the film refuses to answer. It's obvious we communicate with animals already, as anyone who has ever had a pet can attest. But what's the ultimate goal of this research? To create simians as intelligent as Cornelius and Dr. Zira? To discover the difference between human and animal cognition? Or is it simply a way to justify a large research grant? There's a certain hubristic zeal to the enterprise that comes off as distasteful.
Further, knowing that Nim would grow up to be large and aggressive — in other words, a normal chimp — puts the experiment in another light. Terrace admits "no one keeps a chimp for more than five years," so treating him like a human, then dumping him when he's of no further use, is not just insensitive, but it also looks like a sophisticated form of animal cruelty. Not that Terrace will cop to this — he ultimately describes Project Nim as a failure, noting blithely that "knowing words doesn't mean you can string them together."
You could also add that knowing how to teach an animal to sign doesn't necessarily mean you're going to treat him humanely. In Planet of the Apes, head simian scientist Dr. Zaius declares that "to suggest that we can learn anything about the simian nature from a study of man is sheer nonsense." But Project Nim suggests that by studying chimps, we might learn more about human nature than we really want to know.

Michael Norton: How to buy happiness
At TEDxCambridge, Michael Norton shares fascinating research on how money can, indeed buy happiness — when you don't spend it on yourself. Listen for surprising data on the many ways pro-social spending can benefit you, your work, and (of course) other people.
Through clever studies, Michael Norton studies how we feel about what we buy and spend. Full bio »
What would Earth be like to us if it were a cube instead of spherical? Is this even possible?
Q: What would Earth be like to us if it were a cube instead of spherical? Is this even possible?
By The Physicist

Physicist: The Earth is really round.  It's not the roundest damn thing ever, but it's up there.  If the Earth were the size of a basketball our mountains and valleys would be substantially smaller than the bumps on the surface of that basketball.  And there's a good reason for that.

Rocks may seem solid, but on a planetary scale they're squishier than soup.  A hundred mile column of stone is freaking heavy, and the unfortunate rocks at the bottom are going to break in a hurry.  Part of what keeps mountains short is erosion, but a bigger component is that the taller a mountain is the more it tends to sink under its own weight.  So as a planet gets bigger, and gets more gravity, the weight of the material begins to overwhelm the strength of that material, and the planet is pulled into a sphere.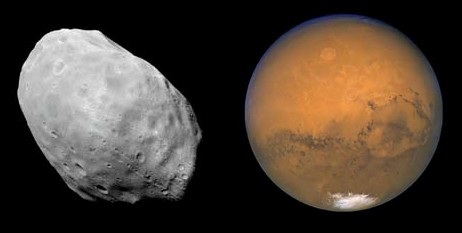 So a tiny planet could be cube shaped (it's not likely to form that way, but whatev's).  Something the size of the Earth, however, is doomed to be hella round.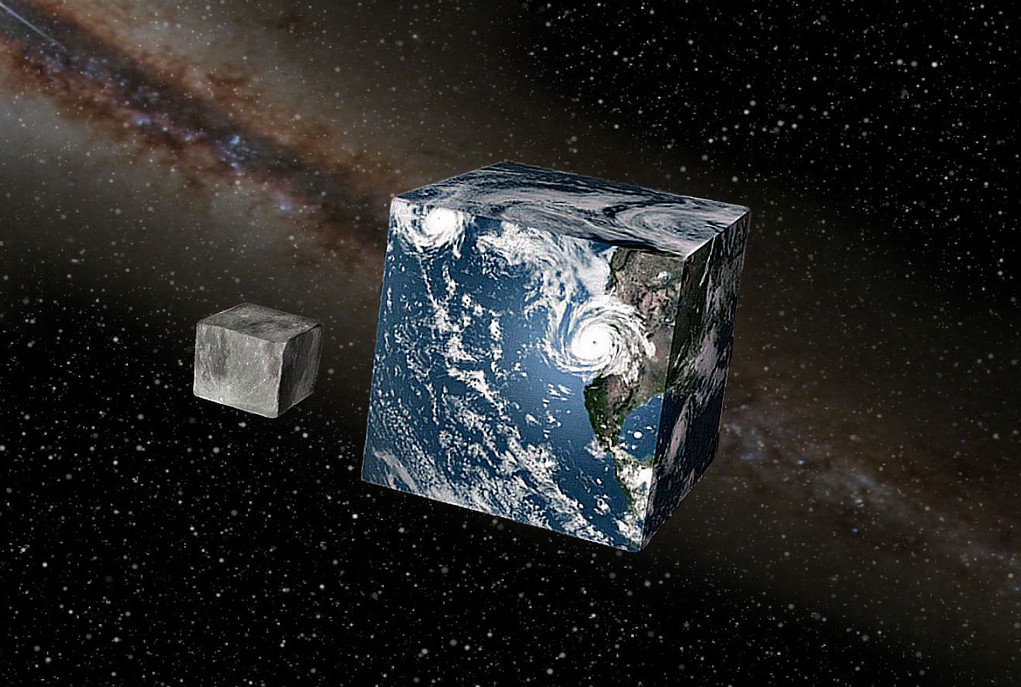 Life on a cubic Earth would be pretty different.  Although gravity on the surface wouldn't generally point toward the exact center of the Earth anymore (that' a symptom of being a sphere), it will still point roughly in toward the center.  So, the closer you are to an edge, the more gravity will make it feel as though you're on a slope.  So, although it won't look like it, it will feel like each of the six sides forms a bowl.  This has some very profound effects.

The seas and atmosphere would flow to the lowest point they can find and as such would puddle in a small region in the center of each face, no more than a thousand miles or so across.  However, both the seas and atmosphere would be several times deeper.  Which doesn't count for as much as you might think.  Here on Earth (sphere-Earth), if you're around 5km above sea level most of the air is below you.
The vast majority of the Earth would take the form of vast, barren expanses of rock, directly exposed to space.  If you were standing on the edge of a face, and looked back toward the center, you'd be able to clearly see the round bubble of air and water extending above the flat surface.  I strongly suspect that it would be pretty.
All life (land based life anyway) would be relegated to a thin ring around the shore of those bubble seas a couple dozen miles across.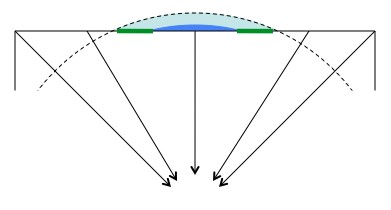 Assuming that the cube was oriented in the way most people are probably imagining it right now, with the poles in the center of two of the faces, then two of those bubble seas would take the form of solid ice cap blocks.
What's really cool is that the cube-Earth would have 6 completely isolated regions.  There's no good reason, beyond some kind of "local panspermia", for the life on each face to be related to the life on each of the other faces.  If the biospheres took different routes  you could even have a nitrogen/oxygen atmosphere on some faces (like we have) and a hydrogen/nitrogen/carbon-dioxide atmosphere on others (like our old atmosphere 3 billion years ago).
The small area would also affect (end) large-scale air and water movement.  You wouldn't have to worry about hurricanes, but the cube-Earth would also have a really hard time equalizing temperature.  If you've jumped into the Pacific Ocean on the west coast (of the United States) you're familiar with the teeth-chattering horror of the Arctic currents, and if you've been in the Atlantic Ocean on the east coast (USA again) you're no doubt familiar with the surprisingly pleasant equatorial currents.  Point is: there's a lot of thermal energy being carried around by the air and water.  On cube-Earth you'd have to deal with huge seasonal temperature fluctuations.
If I had to guess; it's unlikely that complex life would evolve on a cube Earth.  However!  If it did, then their space program would be as easy as a long walk, and their handsomest physicists would spend their time pondering what a round Earth would be like.
By the by, the cube earth photo is by "Altered Realities".
Humanity 101 of the Day: Vlogbrother Hank Green presents visiting aliens with a time-saving primer on humans.

What I want people to realize is, this isn't a video about talking to aliens, it's a video about understanding ourselves. We are stuck inside of humanity…it is the only way we have of experiencing things. Attempting to explain humanity to an imaginary, ignorant, intelligent being, actually sheds a great deal of light on the knowledge that we take for granted.