Photo: Maybe this, not Tesla's Model S, is the future of Elon Musk's fortune. 

AP Photo/Reed Saxon
 By Todd Woody
What's Elon Musk up to now? Last week the chief executive of electric carmaker Tesla Motors cryptically tweeted this:
Musk, who drives his media handlers to distraction with his tendency to tweet first and ask questions later, pushed back the date of the big reveal to tomorrow (April 2), setting off rampant social media speculation: Would he speed up the production of Tesla's next car, the Model X? Or maybe announce an early payback of the company's $465 million US federal loan guarantee?
Tesla stated yesterday that it would become profitable in the first quarter of this year, due in part to exceeding production targets for the Model S, its luxury sports sedan.  That sent Tesla's shares up 18% this morning, but no, that wasn't what Musk was tweeting about:
Wherever Musk puts his money tomorrow, Tesla is worth watching. At $5 billion, its market cap is sizable alongside $38 billion for General Motors and $37 billion for Honda, considering that those giants sell thousands of times more cars. And it says it's about to become profitable when erstwhile competitors like Fisker Automotive head toward bankruptcy and the large car firms struggle to gain traction with their battery-powered vehicles.
While Tesla is known for cars like the Model S, its side business of supplying advanced electric power trains and lithium-ion battery packs to big automakers could ultimately matter more. While the Nissan Leaf, Ford Focus Electric and other battery-powered cars currently on the market offer a range of about 75 miles, or 120 kilometers, Tesla's drive trains (the motors, gears, and electronic systems that transfer power from the battery to the wheels) allow drivers to go as far as 265 miles before juicing up, though they cost more.
Last September, I visited Tesla's Palo Alto, California, headquarters in a defunct Hewlett-Packard research lab in the hills above Stanford University. As JB Straubel, the co-founder and chief technical officer, showed me around the sprawling facility, we wandered into a huge R&D space where Tesla Roadsters and Model S's were parked next to Mercedes B-Class luxury compacts and Toyota RAV4 sport utility vehicles being outfitted with Tesla electric drive trains.
Tesla supplied 2,700 drive trains for the Mercedes A-Class subcompact and Smart Fortwo in Europe and has a deal to build electric power trains for the B-Class model that launches in the US in 2014 (though it said in a filing last month that the terms of the deal had not been finalized.)
The company is also supplying electric drive trains for the RAV4 EV, a deal that Tesla estimates could bring in as much as $100 million when the agreement ends at the end of 2014. Tesla said in regulatory filings that it has been in talks with other automakers about supplying them.
Last month, I drove the RAV4 EV in San Francisco and it's easy to see why Toyota is collaborating with Tesla. The compact sport utility is fast and will go up to 125 miles on a charge. But Toyota is only selling the car in California and plans to make just 2,600 of them through the end of 2014. That's partly because Tesla has limited capacity and partly because Toyota is still testing out demand, says Jana Hartline, a Toyota spokesperson, though the two companies could extend the deal.
Regardless of what Tesla announces tomorrow, another date to watch is July. That's the expiration date for an exclusive agreement with Daimler that bars Tesla from supplying technology to the German company's strategic competitors without giving it the right of first refusal. Hello, Audi.
Somewhere in the Land Rover corral at the Geneva Motor Show next to that nine-speed ZF 9HP automatic transmission will be seven Land Rover Defender electric research vehicles. The Advanced Engineering Team replaced the diesel in the front of its 110-Series Defender with an electric motor producing 94 horsepower and 243 pound-feet of torque running through a single-speed transmission, powered by a 300-volt lithium-ion battery with a 27kWh capacity. The resulting specs are a range beyond 50 miles, eight hours of low-speed off-road work and a four-hour recharge using a 7kW quick charger.

The air-cooled testbed can still be run like a traditional Defender and wade through 800 millimeters of water. There are no plans to make any for the public, but Land Rover will be sending the prototypes out into the world for real-world trials later this year while they study electric propulsion. Check out the press release below for more details on the silent explorer.
After New York Times reviewer James Broder wrote a scathing review of the Tesla Model S electric car, Tesla Motors founder Ebon Musk fired back with damning data logs claiming that Broder's review was a "fake." Following this exchange, CNN decided to do a repeat of the entire trip and managed to complete the drive from Washington D.C. to Boston with plenty of battery life to spare.
Ron's note:
the whole point of the NYT review was that it was in very cold weather. The CNN test was made during quite milder weather, so having different (better) results is no surprise. Seems the CNN test is a very bad candidate at refuting the NYT test's data.
Photo: Rick Ibsen unloads the Model S from a flatbed truck at the Supercharger station in Milford, Conn. 
Stalled Out on Tesla's Electric Highway. By JOHN M. BRODER
Having established a fast-charging foothold in California for its electric cars, Tesla Motors has brought its formula east, opening two ultrafast charging stations in December that would, in theory, allow a speedy electric-car road trip between Washington and Boston.
Roads innovation in the Netherlands
The Dutch design firm Studio Roosegaarde teamed up with the infrastructure management group Heijmans to replace the traditional paint used on roads with a photoluminescent powder that will glow in the dark. Additionally, the roads will light up with snowflake indicators when the temperature drops below freezing to warn drivers of icy conditions. These new highway designs are expected to debut by the middle of the year.
Renault Twizy: More than a skateboard, less than a car. By Serge Schmemann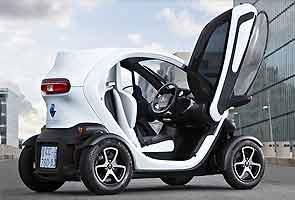 Paris: 
THE Renault Twizy is one of those vehicles you instinctively want to like. The tiny electric two-seater is virtuous (zero emissions), quirky (people sure look at you) and entertaining to tool around in. It wants to be patted, played with and praised. But after buzzing around the boulevards for a couple of days, it became clear to me that to like the Twizy, I first had to figure out what it was. 
That's not easy. Sure, it was fun to drive. And easy: push in the hand brake, turn the key, wait for it to go through a brief start-up ritual, push the D (or R) button and nudge the pedal. 
The Twizy was designed by Renault Sport Technologies, the hot-rodding division of Renault, so even though the 13-kilowatt (17 horsepower) motor provides the acceleration of a 125 cc scooter, the steering is taut, the center of gravity is low and the contraption is surprisingly composed through turns. 
There's no inside rearview mirror (there's no rear window), but given that the vehicle is only marginally wider than the driver, the side mirrors give a good sense of the neighborhood, allowing for some deft weaving through traffic. I found that drivers who would normally try to kill me when I darted in front of them seemed prepared to cut me some slack in the Twizy, possibly because they feared that an unidentified driving object like this might be armed with laser guns. 
Around town, the governed top speed of 50 miles per hour was enough, and even on the Boulevard Peripherique, the multilane ring road, I generally held my own. 
But the fact is, whatever positive things I imagined saying about the Twizy as I hummed around in it were immediately followed by "But…" 
It is emphatically not a car. In France, whence it comes, it is classified as a quadricycle, which means you can't take it on the autoroute superhighway. That eliminates several suburbs from which one might want to commute, as well as quick trips to the airport or to Disneyland Paris. 
Not that there'd be any room for any purchases or luggage - storage consists of two glove compartments and a hole behind the "back seat." That seat is actually a scooterlike perch behind the driver, requiring the passenger to straddle the front seat. 
The driver, I must add, best have dental fillings firmly glued in, given a suspension that faithfully transmits every contour of the cobblestones below and a seat minimally slathered with padding. Hey, Renault Sport doesn't do soft. 
Doors are optional, for 590 euros ($755). I had them, but they were really a bar with a Plexiglas sheet down below and nothing up above. 
I confess it was sort of fun to drive with both elbows hanging over the sides, but then the weather was nice. Along with the absence of windows, there's also no heater, no air-conditioning, no radio, no power anything - only a bare-bones pod that shows roughly how fast, or how slow, you're going; how much juice you have left; and whether you're in D, N or R. 
The driving range on a full charge is about 60 kilometers (37 miles), after which you need to plug in the Twizy for three and a half hours. 
Where to plug it in is, of course, the universal problem as battery-powered cars come of age. Twizys (Twizies?) have a normal European 220-volt plug, which is good if you have a garage. The town hall of each of the 20 arrondissements, or districts, has a pair of outlets for electric cars. I dutifully plugged in my Twizy overnight outside the mairie of the 5th arrondissement, by the Pantheon, but when I got in the next morning the meter hadn't budged. I have no doubt I did something wrong, so I will not hold this against the, um, quadricycle. 
Quadri, yes, but cycle, no. 
Bicycles, scooters and motorcycles are fixtures on the streets here, and young people moving up from these are the most logical market for the Twizy. But the allure of a scooter is that it can zigzag through urban traffic, can be parked almost anywhere and is cheap. The Twizy fails on all three counts. 
Narrow as it is, the Twizy cannot squeeze between cars stuck in a traffic jam, and though it is less than eight feet long and only four feet wide and can turn on a dime, it still requires a real, paid parking spot. And its price, starting at about 7,690 euros ($9,800) without doors (and batteries, which are leased), is more than double that of the basic Vespa scooter, which starts here at 3,690 euros ($4,720). 
(There's a cheaper Twizy with a 4-kilowatt, or 5 horsepower, motor that can be driven without a license, but that's really another story.) 
Renault has said that it has no plans to offer Twizys in the United States, a market the company abandoned in 1987. 
Why would anyone buy a vehicle that combines the disadvantages of a car and a scooter? Evidently, many people are asking the same question, which is why you don't see many Twizys here. That may change as power outlets for electric cars proliferate, but by then there will undoubtedly be many other urban runabouts to choose from. 
So what is it? Well, in the end, it's a statement. Renault went out of its way to make the Twizy completely different from anything else on the road. The whole point is to get people to ask questions and to proclaim that the all-electric revolution is upon us - and that Renault is there at the starting line. 
In fact, Renault makes two other electric vehicles, the Fluence Z.E. (for zero emissions) sedan and the Kangoo Z.E., a mini delivery van, and a compact car, the Zoe, is on the way. But none of those stand out like the Twizy. 
No, I wouldn't buy one, and I wouldn't recommend one. But I did enjoy the smiles, the pointed fingers, the questions and the novelty. 
INSIDE TRACK: Go electric go.
© 2012, The New York Times News Service
The Tesla Model S: Automobile Of The Year. By Ariel Schwartz
Does the ringing endorsement of the electric automaker's newest model from the mainstream auto press mean we're about to see a change in the stigmatization of EVs?
Much political hay has been made over Tesla's extensive government loans; Mitt Romney went so far as to call the electric vehicle startup a "loser" because of production delays on the Model S sedan, which I had the opportunity to test drive this past summer. But make no mistake: This car is a big deal. And this week, Automobile Magazinenamed the Model S its 2013 Automobile of the Year. If you're not familiar with the inner workings of the car world, know that this, too, is a big deal.
What does the magazine think is so great about the vehicle? Part of it is the 265-mile range—impressive for an electric car (even with the least expensive battery option, it still gets over three times the range of the electric Nissan Leaf). The Tesla supercharger network doesn't hurt. Neither does the vehicle's sleek interior design, which features an iPad-like 17-inch touch screen that controls almost everything in the car.
But in the end, it was the vehicle's impressive performance that pushed it to victory. After I had my turn in the Model S, I concluded that it was the most fun car I'd ever driven. "It's the performance that won us over," writes Automobile Editor-in-Chief Jean Jennings in the periodical's article about the Model S. "The crazy speed builds silently and then pulls back the edges of your face. It had all of us endangering our licenses."
It's hard to overstate how important it is that the Model S can compete with and even surpass the performance of its gasoline-powered counterparts. If electric vehicles are to be taken seriously, they need to match up in performance and range to traditional vehicles. No electric car can yet be recharged as fast as a regular car can get a tank full of gas, but Tesla's fast charger network and big batteries are a start.
Now if only the automaker could come out with a vehicle that costs less than $58,570 for the cheapest model, it could truly revolutionize the automotive world.
They Had Electric Cars in 1899, but Abandoned Them. By Dustin Koski and Adam Koski
Electric cars are such a new technology that they still just barely work; it takes hours to charge them, you can't get a charge at a filling station and they're sold only to a select few early adopters who want to outdo their Prius-driving neighbors. But in a world that's running out of oil and getting hotter from greenhouse emissions, the tech can't mature fast enough.
But here's the thing: Electric cars are not as new as most people believe. They've been around for quite a while and in fact, from 1899 to 1900, were more popular than gasoline-powered cars. There were loads of manufacturers and developers, and the fact that they were thought to be a lucrative market was further enforced when notorious glory hog Thomas Edison got in on the action and started developing efficient, affordable electric cars with Henry Ford.
Getty
If 20-inch spinners had been invented back then, we'd still be driving those right now.
With combustion engines seemingly on the ropes, it looked like the electric automobile was destined to become the industry standard.
But the Problem Was …
Electric cars took a knockout blow when huge oil deposits were discovered in Texas in 1901. America's suddenly giant oil supplies dropped the cost of fuel cars dramatically, which was more than enough to tip the scales their way.
Photos.com
Back then, the heads were shaped as middle fingers.
Electric cars weren't killed overnight — Edison and Ford were still trying to collaborate on a commercially viable model in 1914, and one company still produced up to 2,000 of them as late as 1920 — but the impact of plentiful, cheap oil kicked the electric car's ass right to the margins of the industry, where they remain even today.

Texas: Why driving to work every morning costs more than your rent.
How It Could Have Changed the World:
Do we need to count down all the ways that gasoline cars have become a problem? How about you instead just flip over to one of the 24-hour news channels. Within 20 minutes or so you'll see a story about a war in an oil-rich country, or global warming, or fluctuating oil prices due to a market full of nervous speculators, or car companies on the verge of bankruptcy as they desperately try to come up with more fuel-efficient options.
Getty
Left: Gas prices in May of 2008. Right: Same station in December of the same year.
Now, it's true that when you suggest electric cars as a fix for all that, invariably somebody will pipe up and say, "But the electricity they run on comes from coal. Your 'green' electric cars don't change shit with global warming!"
But you have to understand how electric cars — especially as they would exist with an extra 100 years of evolution — would completely change the game. An electric car doesn't care where the electricity comes from — if they switch your power plant outside town from coal to nuclear/solar/wind, you get to keep the same car. And it's a hell of a lot easier to upgrade a single power plant than it is to slowly, over time, convince a million drivers to buy a new car. Especially one that uses an uncertain new technology.
Getty
Man, we learned our lesson the hard way on that one.
In other words, the transition we could be making — from dirty electric cars to clean electric cars — would have been about a hundred times easier than the transition from gasoline to electric. And the world wouldn't have to keep a constant, nervous eye on the Middle East the entire time.
Why Tesla Motors Is Betting On The Model S
Elon Musk's Tesla Motors isn't just an electric car company—it's perhaps the greatest test of Silicon Valley's innovation model. And now is do-or-die time, when everything is riding on a new $50,000 sedan.
BY JON GERTNER
Tesla Model S: The Double Threat
It's an electric car competing as a luxury sedan. How does it compare in both worlds?
PRICE*
0-to-60 TIME
RANGE/MPG EQUIVALENT
TESLA MODELS
$49,900
6.5 seconds
160 MIles/119 MPGE**
Electric Vehicles
Nissan Leaf
$27,700
10.3 Seconds
100 miles/99 MPGE
Chevrolet Volt (hybrid)
$31,645
9 seconds
35 miles/94 MPGE
Mitsubishi Miev
$21,625
13.4 Seconds
62 miles/112 MPGE
Fisker Karma (hybrid)
$95,900
6.3 Seconds
50 miles/52 MPGE
Luxury Sedans
Audi A7
$59,250
5.4 seconds
18 City/28 Highway
Cadillac CTS-V
$64,515
3.9 seconds
14 City/19 Highway
Mercedes Benz E350
$50,490
6.5 Seconds
20 City/30 Highway
Jaguar XF Sedan
$53,000
5.5 Seconds
16 City/23 Highway
National Geographic: World's 25 Best Ski Towns. By Aaron Teasdale
—Aaron Teasdale
Zermatt, Switzerland
Photograph by Kurt Müller, Zermatt Tourismus
Best For: Photographers with a taste for old-world culture and never-ending descents
Switzerland is a country of classic ski towns, but Zermatt is its crown jewel. To many, it is the world's ultimate ski resort. Though surrounded by several glacier-clad peaks, everything here—the town, the skiing, the sky—is dominated by the spiking pyramid of the mighty Matterhorn, one of the most distinctive mountains on Earth. The village itself allows only electric cars (you arrive by rail), and luxury hotels sit side by side with centuries-old wooden barns. Streets are narrow and cobbled; restaurants are abundant and expensive. It's everything you imagine a Swiss ski village to be.
Zermatt offers three interconnected Swiss skiing zones, each with its own cluster of lifts and all skiable with a single ticket and accessible directly from town. There are also two ski zones just across the Italian border. The scenery is unrelentingly stunning but the skiing and snowboarding is even more so, with vertical drops of up to 7,152 feet on terrain that varies from never-ending cruisers to north-facing powder runs. The more than 50 on-mountain restaurants are among the finest anywhere, and taking time for a relaxed lunch is de rigueur.
Don't miss the ride on the Matterhorn Glacier Paradise cable car—the highest in the Alps—on which you can descend 12 miles into the Italian area of Cervinia (joint lift tickets available), where a midday meal costs half the price you'd pay in Switzerland.
Ask a Local
Longtime Zermatt resident Amadé Perrig is a former ski racer and instructor and the retired CEO of Zermatt Resort. He has climbed the Matterhorn more than 20 times. Here are his recommendations.
Best Digs
Budget: Hotel Bahnhof is a simple, low-budget hotel that is well known by climbers.
Swank: The Mont Cervin Palace is an old, classic, five-star hotel.
Best Eats
Cheap: Walliserkanne has a really good low-budget menu.
Gourmet: Try Chez Heini for high-quality lamb in the company of celebrities.
Best After-Ski Party Spot
Unique Hotel Post Zermatt has five bars, including one with live music.
Best Rest-Day Activity
Visit the Matterhorn Museum to learn about the history of the mountain, the first ascent, and more.
Zermatt's Classic Ski Run
"National, it's very steep and you can carve," says Perrig.
Whatever happened to that battery?
Scientists develop mobile phone battery that can be charged in just 10 seconds
Last updated at 7:31 PM on 11th March 2009
The MIT team say their invention uses materials already available to battery manufacturers and would be simple to mass produce. The invention is based on conventional lithium ion rechargeable batteries found in most cameras, phones and portable computers. Lithium ion batteries are used in portable gadgets because they  store a large amount of energy in a small space. However, they are also relatively slow at recharging - which can be a nuisance for anyone who forgets to charge up their phone overnight.
Dr Gerbrand Cedar, who devised the new battery, said: 'Electric car batteries have a lot of energy so you can drive at 55mph for a long time, but the power is low. You can't accelerate quickly.' Dr Cedar and colleagues have now found a way of speeding up this process, the science journal Nature reports. Conventional lithium ion batteries contain two electrodes - one made from lithium and one from carbon - submerged in a liquid or paste called an electrolyte. When a battery is being charged up, ions - or positively charged atoms - flow from the lithium electrode to the carbon one. When a battery is discharging, the ions flow the other way.
The new battery could also work with rechargeable cars
Charging up or discharging a battery is slow because it takes time to 'detach' the ions from one electrode and absorb them into the other. The researchers took a conventional electrode made from lithium iron phosphate and altered its surface structure so that ions were released and absorbed 100 times more quickly than normal.
A prototype made using the new technique could be fully charged or discharged in just 10 to 20 seconds. A similar sized ordinary battery takes six minutes to charge. Unlike other battery materials, the new material does not degrade when repeatedly charged and recharged. That could lead to faster batteries lasting between two or three years, they said.
'The ability to charge and discharge batteries in a matter of seconds rather than hours may open up new technological applications and induce lifestyle changes,' Dr Ceder said.
The technology could also usher in a new generation of smaller, lighter batteries that allow phones and handheld batteries to be the size of credit cards. Although the invention will be popular with owners of electronic portable gadgets - who will no longer need to remember to keep them charged up overnight - it could also usher in a new era of electric cars.
Bigger batteries for plug in electric cars could charge in just five minutes - compared with about eight hours for existing batteries. Owners of electric cars would be free to drive long distances, safe in the knowledge that they could top up their battery in a few minutes at a service station - just like the owner of a petrol or diesel car.
2012 Fisker Karma Lands A Role On 'Two And A Half Men'. By John Voelcker
CBS raised a lot of eyebrows earlier this year when it canned the human trainwreck known as Charlie Sheen from its hit sitcom, Two and a Half Men, replacing him with the younger, saner Ashton Kutcher. But little did we know that producers were adding another supporting role to the show, in the form of a 2012 Fisker Karma.
The Karma debuted last night, driven by Kutcher's character, Walden Schmidt. Given Schmidt's status as an internet billionaire, it's not especially surprising that the show's writers opted to give him an edgy, fashion-forward set of wheels, but this could be a double-whammy of good karma for the Karma.
For starters, the car is slated to appear throughout the season, giving a wide swath of Americans — not to mention millions of viewers in other parts of the world — a glimpse of the sleek extended-range electric sedan. Depending on the amount of screentime the Karma receives, that could generate huge awareness for the new vehicle.
Fisker will likely also benefit from the public's generally positive perception of Kutcher. While his character may share some similarities with its predecessor, off-camera, Kutcher's persona is miles away from Sheen's. Kutcher is known for being a stable stepfather in a healthy relationship with bombshell Demi Moore, and he's a spokesperson for numerous products. Sheen, on the other hand, is best known for joyrides, mysteriously disappearing vehicles, and long stints in rehab.
What that means is that the public is likely to admire the Karma far more with Kutcher behind the wheel. That's exactly what Fisker needs, now that it's begun ramping up to the widespread launch of the Karma this fall. (Well, maybe.)
We asked Fisker's Roger Ormisher what he had to say about the partnership, and he responded thusly: "We are delighted to be have been pro-actively chosen as Ashton's car on Two and a Half Men – it will give Fisker amazing visibility not only in the US but internationally too. The on-going partnership with Two and a Half Men is one that is both exciting and motivational for everybody here at Fisker Automotive."
Which is about what you might expect Fisker's director of global communications and public relations to say, given that his company's product is being featured on one of the top-rated comedies on TV, right?
Afghanistan, Aland Islands, Albania, Algeria, American Samoa, Andorra, Angola, Anguilla, Antarctica, Antigua and Barbuda, Armenia, Aruba, Azerbaijan, Bahrain, 
Japanese Tech Could Allow Electric Vehicles To Drive Unlimited Distances. By Ben Schiller
A road that charges electric cars has long been a pipe dream for combating range anxiety, but these Japanese scientists are making it work in real life.
It's a well-known shortcoming of electric cars that they can only be driven short distances. The Chevy Volt, for example, has a maximum range of 50 miles on a single charge. And, while it's possible to back up the electricity system with a fossil fuel-based one, as the Chevy does, that somewhat takes away from the point of having an electric car in the first place. 
It would be much better either if the car could go longer without needing to stop, or if it could somehow be recharged mid-flight, like a long-haul military plane.  And, in fact, the second possibility may not be as fanciful as you might think. 
Researchers at Toyota Central R&D Labs and Toyohashi University of Technology have come up with what they think is the world's first mid-drive charging system, based on a similar mechanism that allows trains to travel under overhead wires. 
Under the still-experimental system, electrified metal plates are buried under roads, which "up-convert" energy via a radio frequency to a steel belt inside a car's tires, as well as to a plate sitting above the tire. 
Although testing of the system has only involved low voltages so far, the researchers say the system could allow to electric cars to be far lighter than they are today. The electric cars would need smaller battery packs, as they would only need to to get and from the electrified highways. 
Anything to reduce the weight of today's electric car batteries would be a good thing, potentially saving energy and conserving limited lithium supplies. The Chevy Volt's battery assembly weighs a not-insubstantial 435 pounds, and measures 3.5& cubic feet.
There are obvious concerns about dangers to the public from stepping on an electrified metal strip, and some question the viability of digging up large stretches of road to install the infrastructure. But the idea does have precedents. Boston's Logan Airport, for example, has ordered 60 "Online Electric Vehicles" that operate under a similar principle, and were developed by the Korea Advanced Institute of Science and Technology.